Swindon Cost Of Living report
The results of our month long survey into the impact of the Cost of Living Crisis on Swindon residents can be found in our new report.
Citizens Advice Swindon Cost of Living Report July 2022
Headline findings: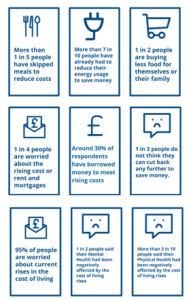 Help Available
Swindon Borough Council, alongside partners Citizens Advice Swindon and Crosslight have published its 18 Things to help if you are struggling with the Cost of Living  18 Things
Check if you can claim any benefits:
Depending on your situation, you can use the Turn2us,  Entitledto and Policy in Practice benefit calculators to check which benefits you can get.
You'll need information about savings, income, pension, childcare payments and any existing benefits (for you and your partner).
Check out the following page on the Citizens Advice Website more help available   Getting help with the Cost of Living
Contact us if you want to speak to an adviser about your situation, we can:
support you with debt advice
help you claim benefits or appeal decisions
refer you to foodbank for assistance
help you contact your energy provider
give energy advice
help you apply for charitable support